Inline Level Filler (Pressure or Gravity)
REB offers level filling systems for pressure or gravity applications with our Model ILS series, available in configurations of 2 to 12 filling spouts and can accommodate container sizes ranging from ounces to multiple gallons.
The ILS series of level fillers can handle products ranging from thin foamy products to heavier products with viscosities similar to shampoo. These systems fill to a specified level in rigid containers and are accurate to +/- 1/16" in fill height.
The ILS features a stainless steel frame and the product contact system is made of stainless steel and USDA approved plastics.
We offer a selection of pump configurations based on the type of products filled and the production rated required.
Automatic Filling System: Model ILS-A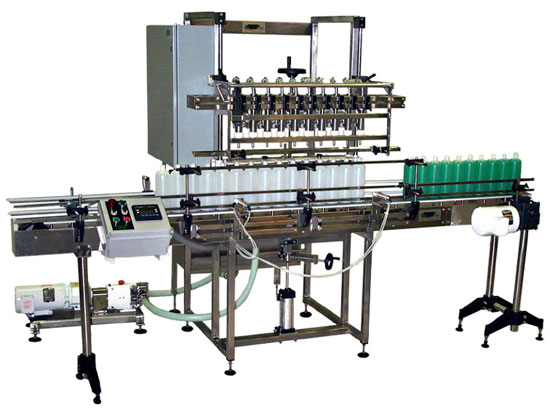 A fully automated system supplied with a 10 foot, powered conveyor with programmable logic controller (PLC) and container sensors control the machine functions.
To accommodate a wide variety of containers, we offer three types of container indexing.
Pneumatically controlled gating fingers is the standard system, providing the most versatility and faster indexing speeds.
A timing screw or spiral can be used to position oval containers (which are prone to shingling) under the nozzles consistently.
Semi Automatic Filling System: Model ILS-SA
The ILS-SA is supplied with the same frame, product contact system and conveyor as the automatic model. This filling system is operator controlled and all the functions, including the nozzle spout bar movement and container indexing, are controlled by manual switches and levers.
Manual Filling System: Model ILS-M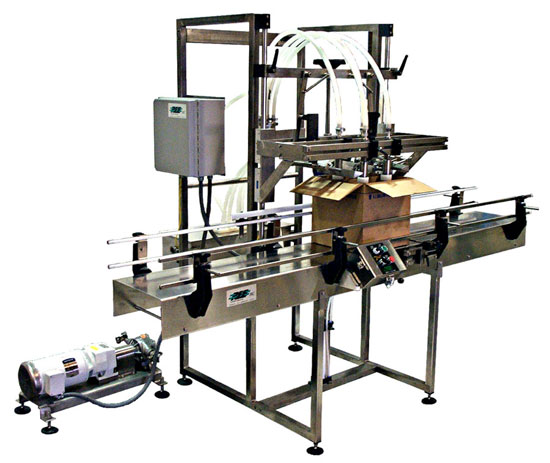 The ILS-M is a completely manual filling system with a container slide track instead of a power conveyor. The containers must be pushed in and out of the fill zone manually. The operator controls the movement of the nozzle spout bar and operation of the pump via manual switches and levers. The system is used for low volume, pilot runs, or situations which do not justify a fully automated system.
Optional Features:
Container Neck Centering Device
Drip Tray
Sanitary Raised Conveyor